Australian Cattle Doggies in the family!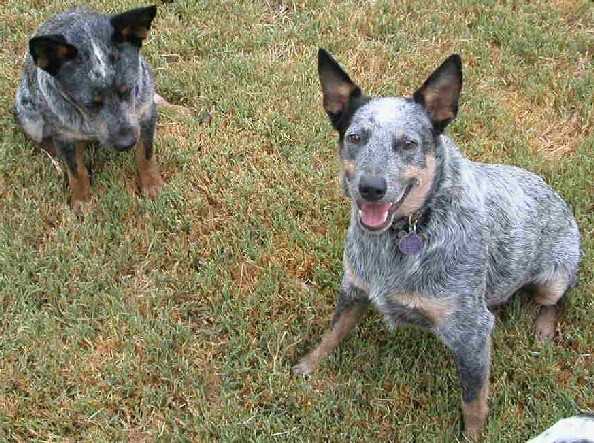 Smokey, (left) and Jasper (right)...both "New Hope Cattle Dog" Alumni
Jasper came home with me in August 2003 about 6 weeks after I lost my first cattle dog, Sparky. Sometimes known as "Queensland" or "Blue" heelers, Cattle Dogs are a true Australian breed and come in a variety of colors, not just "blue." Although ACD's have been in the US for years, the movie "Mad Max" was probably the first time a majority of American's learned about the breed.
Established in the 1900's to herd the feral and often highly aggressive beef cattle that are raised in near wild conditions on the great "cattle stations" in Australia, ACD's herd by nipping at the heels of the cattle, hence the nickname of "Heelers." Cattle Dogs are hardy, high endurance dogs with an easy-to-care-for short coat, and signature upstanding ears. The breed was created by crossing several kinds of collies with wild dingos. Dalmation was added into the mix later making the Cattle Dog an excellent breed to have around horses, especially if you trail ride.
ACDs are super smart, loyal, protective and hardwired with a strong work ethic. They love to work and can be taught to herd just about anything. They are often called "velcro" dogs for their habit of sticking to their human no matter what.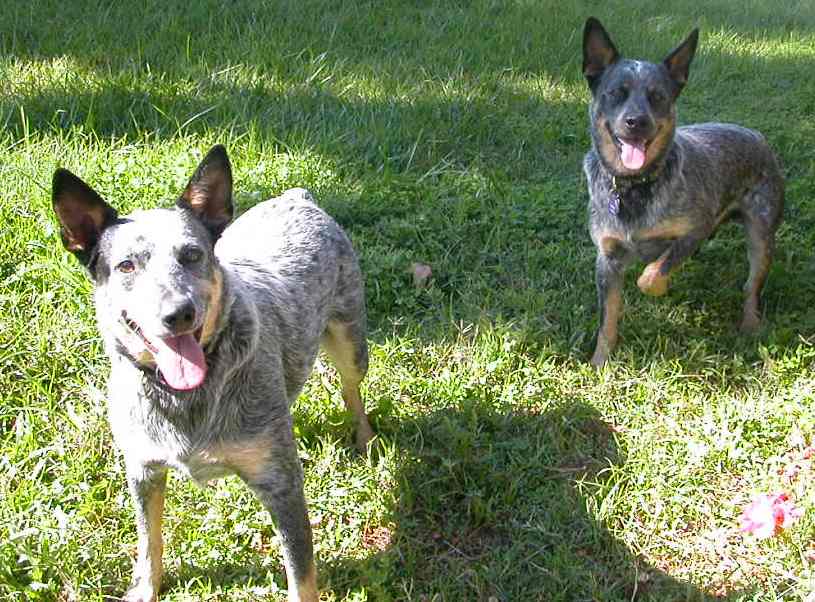 C'mon, throw the ball Mom!!!!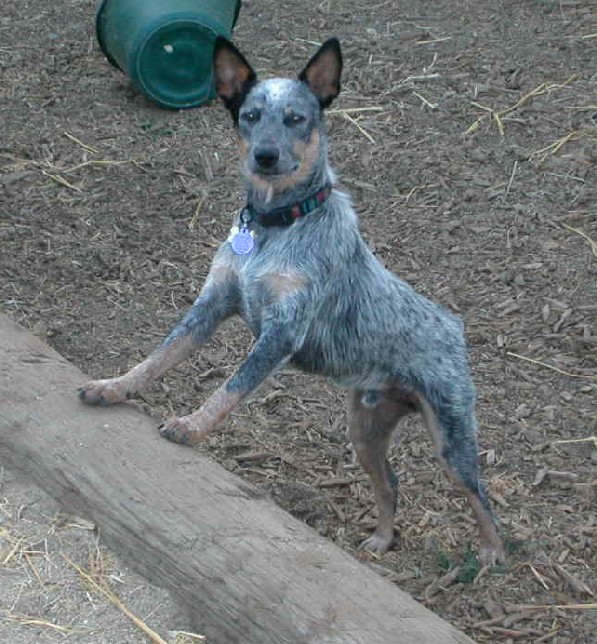 This is Jasper in August of 2003...still looking like a pup!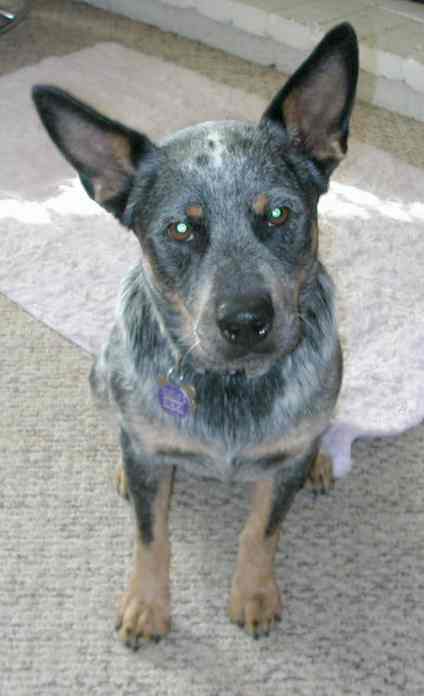 Awwwww, Smokey looking cute!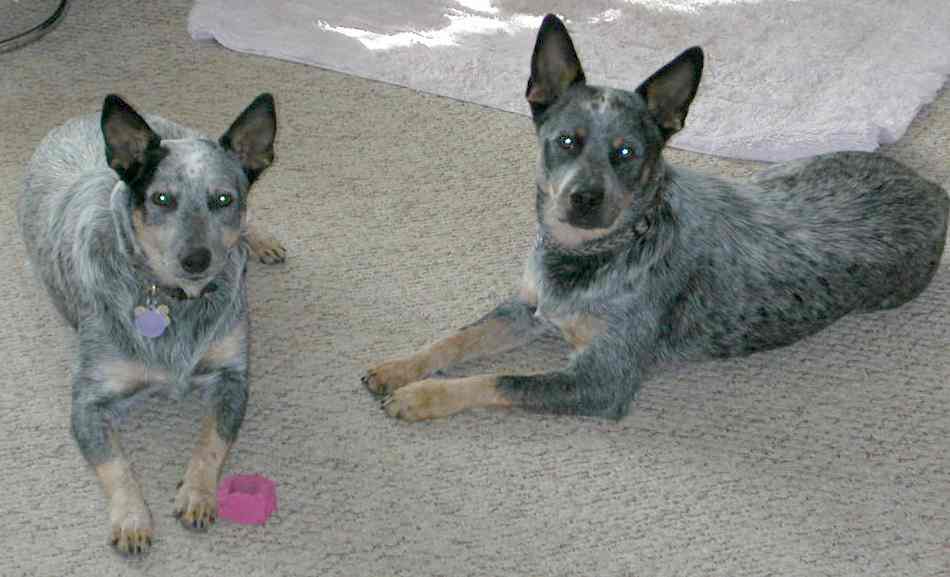 Jasper (left) and Smokey (right)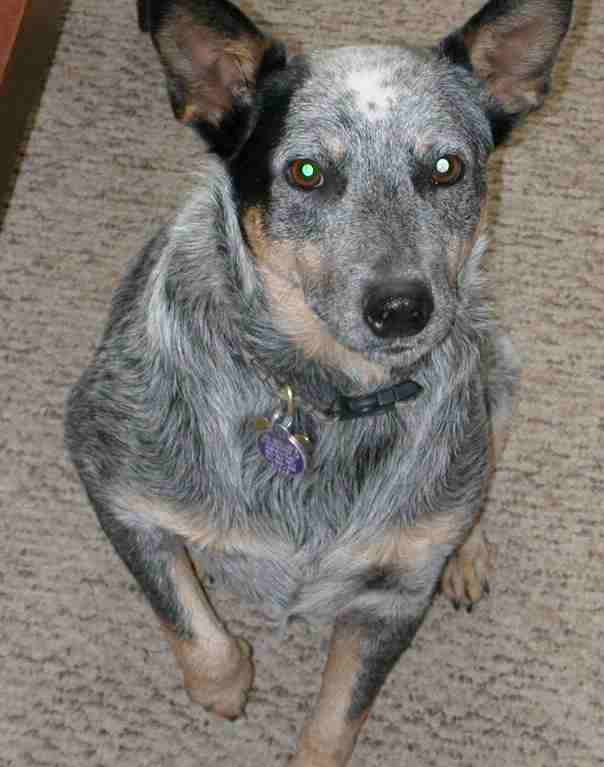 Got a ball mom? (Jasper looking adorable)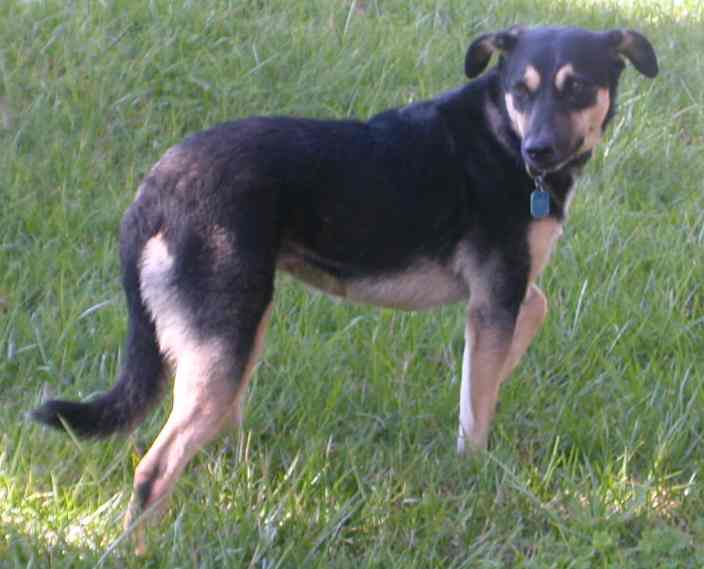 Bailey: 14-month old Border Collie/Aussie Cattle Dog Mix Needs Forever Home!
Update 11/12/04: Bailey is adopted!!!
Congratulations John & Karyn H. of Lemon Grove, CA
Bailey is a 14 month old spayed, Border Collie mix. She was one of the puppies I raised from birth to 3 months last year when I rescued their mom. I then found homes for the whole family. Alas, what I thought was a suitable adopter for Bailey last October turned out not to be so and she ended up on my doorstep in October in poor condition.
After a lot of TLC, however, I'm happy to say Bailey is doing GREAT now. Bailey is a sweetie-pie-love-bug (the proverbial velcro dog). She's housebroken, uses a doggie door, sleeps on her mat all night, likes to walk on leash and doesn't run off when off leash. She seems to prefer to "stick" to her human. She is quiet and easy going. She knows basic commands and is responding well to training using lots of positive reinforcement. She is up to date on her shots and healthy. She is rather timid and shy, and still very insecure, but she's learning to come out of her shell. She is a quick learner and loves attention. She is quite fearful of strangers, but soon warms up with some patience and kindness. Once her trust is won, Bailey is very loving and friendly with a big waggie tail and a virtually unquenchable need for tummy rubs! She is fine with other dogs and with children, but is wary of horses (doesn't show any sign of wanting to chase them) and has never seen a cat.
If you or someone you know would like to share your life with a sweetheart of a doggie, please contact me. I really need find this little girl a loving "forever" home.